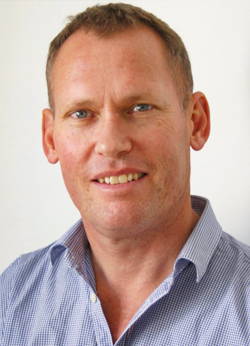 Before becoming an Alexander Technique teacher I spent 15 years as a professional PE teacher and sports coach working in the UK and Australia. Having suffered with bouts of lower back pain since the age of 14 I decided to have Alexander lessons because I saw the difference it made to my sister who reported significant improvement in her pain levels caused by prolapsed discs.
Having also suffered from back and knee trouble I embarked on lessons and found that my sports performance and energy levels improved noticeably and I no longer suffered from a tight back, neck and shoulders.
The most revealing discovery was that by noticing and re-educating my habitual postural and mental habits my body and mind began to work in closer harmony which in turn resulted in me moving more freely, having a better presence of mind, improved posture and staying relatively injury free to name a few benefits. Now the Alexander Technique is an integral part of everything I do whether running, walking or sitting at my desk.
Winchester Clinic (Alexandra Sports)
Friday | 12:00 - 16:30
| | |
| --- | --- |
| Service | Price |
| Initial Assessment and Lesson (30 mins) | |
| | |
| 10 Lesson Transformation Package | |
One to One Lessons
Undoubtedly the best way to learn the Alexander Technique is to have one to one lessons. After an initial assessment and discussion of what your goals are you will be taught the principles with me using my hands to inform the body of new ways of moving. This involves very gentle non invasive work on the body in which the body is encouraged to release and adopt new patterns of working. We will address you specific postural habits and issues and work on formulating a new set of habits to take you forward in your everyday life.
Ultimately you will develop an understanding of how to implement the Alexander Technique into your life so that you can take ownership of your body and use it to the best of your ability to enhance your life. You will develop a skill for life!
Lessons are conducted without removing any articles of clothing except shoes. Please wear loose comfortable clothing. It is best if ladies wear trousers or exercise leggings but not skirts.
How to book an appointment
---
Head in to either of our stores and speak with a member of staff. They will be able to find you the next available appointment.