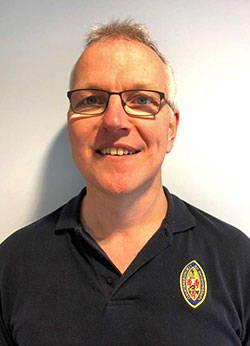 Headaches, Sports and Spinal Physiotherapy
For Injury Diagnosis and Treatment
Qualified as a Chartered Physiotherapist from the University of Southampton in 2000, with an BSc honours degree in Physiotherapy. Since qualifying Julian has worked for a number of years in the NHS at St Marys and Queen Alexandra Hospitals.  
The majority of his career since, has been spent working for the Ministry of Defence, firstly at the Royal Hospital Haslar, then at HMS Excellent naval base on Whale Island. During this period he has worked as a musculoskeletal/sports physiotherapist treating injured service personnel with multiple lower body, upper body and spinal injuries.
Working in the military environment has allowed him to work with patients involved in performing at a high level in a wide variety of sports, such as Running, Triathlon, Cycling including supporting them pitch side.
Portsmouth Clinic (Alexandra Sports)
Tuesday | 18:00 - 21:00
Saturday | 09:00 - 12:00
| | |
| --- | --- |
| Service | Price |
| | |
| | |
| | |
| Course of Acupuncture (4 Treatments) | |
Initial Assessment
A 45 minute appointment during which a full history and physical exam will be carried out. A diagnosis will be made and fully explained and from this a plan of treatment will be agreed between you and your physiotherapist with a guide to number of treatments required and approximate length of time to recovery.
Review Appointment
A 30 minute appointment during which you will receive treatment for your condition.
Treatments used may include: Soft tissue massage, joint mobilisation, manipulation, a specifically tailored program of exercises, management advice, acupuncture.
How to book an appointment
We highly recommend booking in advance to ensure you get the dates and times you require. There are various ways to book with our in-store Physiotherapist
---
Head in to either of our stores and speak with a member of staff. They will be able to find you the next available appointment.