---
---
So what is a Biomechanical Assessment?
A biomechanical assessment is the assessment of the mechanics of a biological system; normally with the view of improving or enhancing such mechanics as to produce favourable results.
In the context of this industry the biological system is the human body and we are generally assessing the lower limb (below the hip) biomechanics; whilst noting any significant interactions with the rest of the body.
The "favourable results" we are seeking, is helping you to select the ideal footwear for your biomechanics to help avoid injury and promote a better running style so that you get the most enjoyment out of your running possible.
When you get it just right, you will run without even thinking about your body, your mechanics will "flow" and you will relax and enjoy the run; however get it wrong and even a short run can result in injuries or pain.
---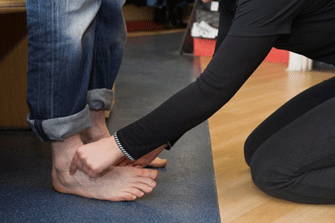 Ascertaining Sub-Talar Neutral
Checking for forefoot varus
Do I really need a biomechanical assessment?
The biomechanical assessment has been developed to ensure that we can help you can choose the ideal shoe for your feet; helping to reduce the possibility of injury. Whilst it may sound long-winded, we understand that some of our customers like to comprehend in full detail how their body interacts with footwear while they run; while others prefer to just be guided by us.
Either way you are the customer and we are here to ensure that you leave happy in the knowledge that you have the right shoes for you. We also recognise that choosing products is more than just a case of selecting what is practically correct; it can be an emotional decision. So if you prefer to simply choose your own shoes or even pick what you prefer the look of we will still be happy to help. 
Is our biomechanical assessment any different to all of the rest?
At Alexandra Sports we pride ourselves on the quality and detail of our biomechanical service; which is continually being adapted to take account of the latest developments in the field of running biomechanics and sports podiatry. Within our assesment we combine three of the most respected and well published theories of podiatric biomechanics, identified by a leading podiatrist and long-standing affiliate Paul Harradine and his colleagues.
The term "biomechanical assessment" is now more widely used than ever before and most runners are now aware of the importance of this service in assisting with the choice of their optimum running shoes; however, as with many specialist services, the more common they become, often the more they become "watered down". Sadly this can manifest itself in poor advice and inevitably injuries; we believe in offering the most comprehensive biomechanical assessment possible outside of a lab or medical environment.
We won't just video you running, or look at your wet foot-print! We combine the morphological analysis of a static assessment with the dynamic assessment of a gait analysis and the informative element of a subjective analysis. This "three-pronged" approach ensures that we can understand why any injuries may be occurring and accurately visualise exactly how your body will work with a selection of hand-picked footwear options.
---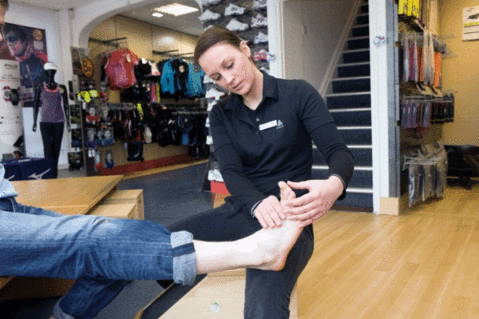 Checking for Hallux Restrictions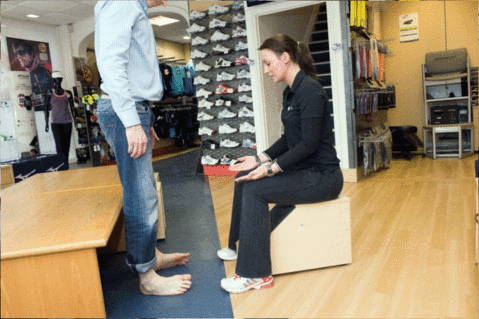 Through many years of experience we have perfected the biomechanical assessment process; however some things are best not rushed. So we will normally spend 10 to 15 minutes analysing your needs before helping you to select your most suitable options. It is also worth remembering that everyone is different and this is certainly a fact that we recognise, so not every assessment is the same; we may add or exclude certain tests as relevant for you.
---
Well first we like to get to know you and your needs so we will ask you lots of questions. This is all part of the subjective analysis to help establish any injuries and their possible cause, as well as understand the type of running or exercise you will be doing; don't worry we won't ask anything too personal! At this point we also love to see your old trainers as we can pick up lots off clues from the wear of the outsole, midsole and the inside of the shoe; this also helps us to understand how well you got on with those particular shoes and why.
Next we'll perform some podiatry-based tests including: establishing sub-talar neutral position, maximum pronation test, hubscher test, knee alignment, ankle, Hallux and knee ROM as well as many more. In order to perform these tests most effectively it is necessary to see your bare feet, but if for any reason you are really embarrassed just let us know and we can accommodate for this. After these static tests we then watch you running and/or walking in real time. This is mainly looking at your running/walking gait as a whole which is really useful for identifying spinal or pelvic problems, as well as seeing how your lower limbs function under load.
Finally, once we have hand-picked a selection of suitable shoes for you, we will video you running/walking on the treadmill in order to analyse this in slow-motion and show you the effect of the various options; we will also watch you running/walking again in real-time with the footwear on as a further check. This is the dynamic part of the assessment and can reveal quite a few interesting observations that we will explain in as little or much detail as you like; just like the sports commentators on TV we can draw interactive lines and angles onto the screen so that you can see how the shoes are improving your running/walking gait.
Checking Patella Tracking
Of course it doesn't matter how much you or we know about your biomechanics; without a correctly fitting shoe this information isn't of much use. So we will work with you on the correct fit and size to ensure that the shoe can perform to its best ability for you.
For more information on how to ensure you have the best fit please see view the size guide on the respective product pages.
Do I need to make an appointment?
There is no need to make an appointment for our biomechanical assessment service; we simply ask that you arrive no later than 45 minutes before we close on any given day; as it takes time to ensure that we fully understand your biomechanics and can find the right shoes for your needs.
When you arrive at the store, please ask at the counter for an assessment token, this will ensure you are seen by a qualified footwear consultant in turn. If you have just popped in to pick something up and don't need an assessment, please let us know and we'll try to get what you need without you waiting too long.
---
Yes & No! The Biomechanical Assessment is £20.00, however this charge is waived when purchasing a pair of shoes that has been chosen during the assessment.
---
Have a question? Get in touch...
Thanks! One of our staff members will get back to you shortly.
This field is required
This field is required
This field is required