Book your appointment today
We are now offering appointment booking for our gait-analysis and insole fitting services. Simply use the button below to book your gait-analysis today.
Booking an appointment guaratees a dedicated time slot to suit you with one of our highly trained experts. To help prevent overcrowding and to provide all our customers with an optimal experience it is advised that an appointment is booked for our gait-analysis and insole fitting service.
The duration of each appointment lasts 30 minutes and a deposit of £20 is required at the time of booking. This deposit is refunded at the time of purchase.

Services available for booking:
What is a gait-analysis ?
Our redefined, industry leading biomechancial assessment and gait-analysis will help measure your biomechanics to help choose footwear that will not only improve your run, but help prevent running related injuries. It is ideal for both beginners and experts alike. Use the button below to find out more.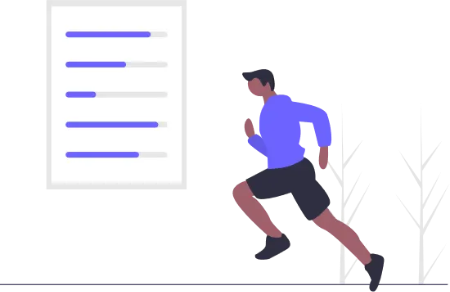 Preparing for your appointment
Be on time for your appointment. It may be possible to get a head start, so arriving up to 10 minutes early is advised.
It is a good idea to bring your current/previous footwear and insoles.
You will be required to do some walking or running, so wear comfortable clothing.
A £20.00 deposit is taken at the time of booking, however, this is refunded to you at the time of purchase.
Can I only book a gait analysis?
You only need to book an appointment for our gait analysis and insole fitting services. For anything else, simply visit one of our stores and talk to a member of staff. Alternatively, take a look and purchase from our website.

Do I have to book an gait analysis or can I just walk-in?
You don't have to book an appointment, but we highly recommend it. All appointment bookings will take priority over walk-ins. If you visit our store, and we are fully booked, you may be asked to schedule an appointment or visit at a later time. If however, one of our staff members is free, we will happily assist you.

What if I just need advice?
You can email us, call us or simply visit one of our stores. All our staff members are trained, experienced and will be more than happy to help with any of your queries, big or small.

If I don't book an appointment, can I still visit?
Yes you can, however, please bear in mind that appointment bookings are a priority, so you may be asked to wait outside or return at a later date if the store is at capacity.

What should I bring with me?
We recommend you bring with you the running shoes you have been wearing or the most recent pair you used to run/walk in. We also advise that you wear comfortable clothing as you may be asked to run and/or walk during the assessment.