Physiotherapy | South Coast Rx

Keeping you doing what you love.

South Coast Rx is a private Physiotherapy practice located in Alexandra Sports and the University of Portsmouth Ravelin centre.
Who we are and why choose us?
Our central goal is to keep you doing the things you love!
As active sports people ourselves we know how frustrating it is to be injured, especially when you have a race coming up!
We will work with you to answer the following questions and get you back running again as quickly as possible:
What is going wrong?

How can you get it better?

What can we do to help get it better?

How long will it take to get better?
What physiotherapy services do we offer?
Assessment and treatment of sports injuries

Assessment and treatment of long term MSK conditions, aches and pains.

Sports massage

Running MOT Screening

Gait analysis

Acupuncture

Blood flow restriction training

Normatec and Theragun recovery technology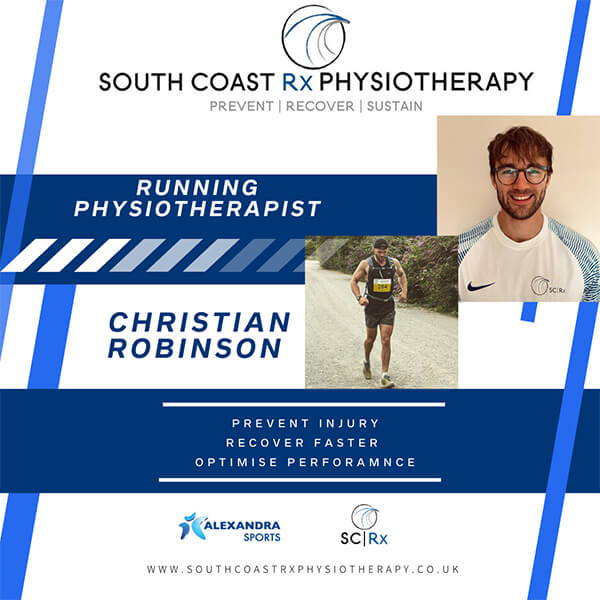 Christian Robinson.
BSc, MSc, HCPC registered and member of the CSP.
Christian started his career focusing on sport performance and health, studying Sport and Exercise Science at Cardiff Metropolitan University. Following this, he went on to complete his masters Physiotherapy degree at Southampton University.
Since qualifying, Christian has worked in various roles within the NHS, including orthopaedics, out-patient musculoskeletal and the intensive care unit.
He specialised in treating MSK conditions and currently still works as a Senior Physiotherapist in Hampshire. Alongside the NHS, he works privately for SouthCoast Rx Physiotherapy, where he found a keen interest for running rehabilitation, performance optimisation and injury prevention. As a keen runner himself, having completed multiple marathons, triathlons and ultras, treating runners became a passion for him.
He prides himself on giving his patients the tools to be able to treat themselves and has a passion for functional, exercise based rehabilitation approach.
Price List
Physiotherapy:
Initial Consultation & Treatment £65 (60 minutes)
Follow up appointment £50 (40 minutes)
Clinical Specialist Physiotherapy:
Initial Clinical Specialist Physiotherapy appointment £85 (60 minutes)
Follow up Clinical Specialist Physiotherapy appointment £65 (40 minutes)
Sports massage:
(60 minutes) £50 (30 minutes) £30
Clinical Pilates (6 weeks):
£150 ( Includes 1:1 Pilates movement assessment)
Additional Services
Normatec Recovery Boot Rental:
24 Hours - £25/ 72 Hours - £50/ 1 week- £75
Functional Movement Screening £150
(Includes: 90 minute comprehensive assessment and personalised report)
Telehealth Consultation £40
Follow up Telehealth appointment £30
Current offers
*50% OFF Initial assessment for July
10% OFF initial appointements for all Alexandra Sports customers
FREE 15 minute consultation to all customers receiving an Alexandra Sports gait analysis.
*Discount only applies at Alexandra Sports Clinic with Christian