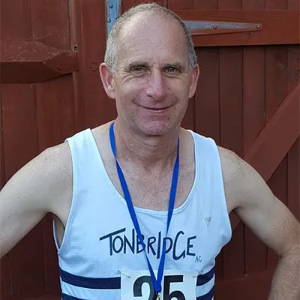 For Injury Diagnosis and Treatment
Philip Coleman has won county, district and British Masters medals on road, track and cross country and wishes to advise other runners lessons that he has learned over the years. Thinking of training and injuries has changed over the years so Philip keeps up to date with the latest research and evidence and has been on specialist running course with, for example, The Running Clinic and Tom Goom's Running Repairs course.
Runners need to know when they need to rest from running, how long an injury will take to heal and what caused the injury. Most runners also want to know how to run faster and further and how to measure progress.
Philip can also give advice with running kit such as shoes, clothing, heart rate monitors and GPS watches.
Winchester Clinic (Alexandra Sports)
Wednesday | 10:30 - 16:30
Portsmouth Clinic (Alexandra Sports)
Monday | 10:30 - 16:30

Friday | 10:30 - 16:30

Saturday | 11:30 - 15:30
| | |
| --- | --- |
| Service | Prices |
| 1 Hour inital appointment | |
| | |
Initial Assessment
A 60 minute appointment specialising in running injuries and training, focusing on education and explanation of the injury and cause, gait analysis, running specific exercises, some hands-on treatment when needed such as taping, soft tissue release etc and training guidelines.
Review Appointment
A 30 minute appointment during which you will receive treatment for your condition.
How to book an appointment
We highly recommend booking in advance to ensure you get the dates and times you require. There are various ways to book with our in-store Physiotherapist
---
Head in to either of our stores and speak with a member of staff. They will be able to find you the next available appointment.